Full-scale iPad app

Product Owner

Design strategy

Interaction

Wire-framing

Content Strategy

Visual Design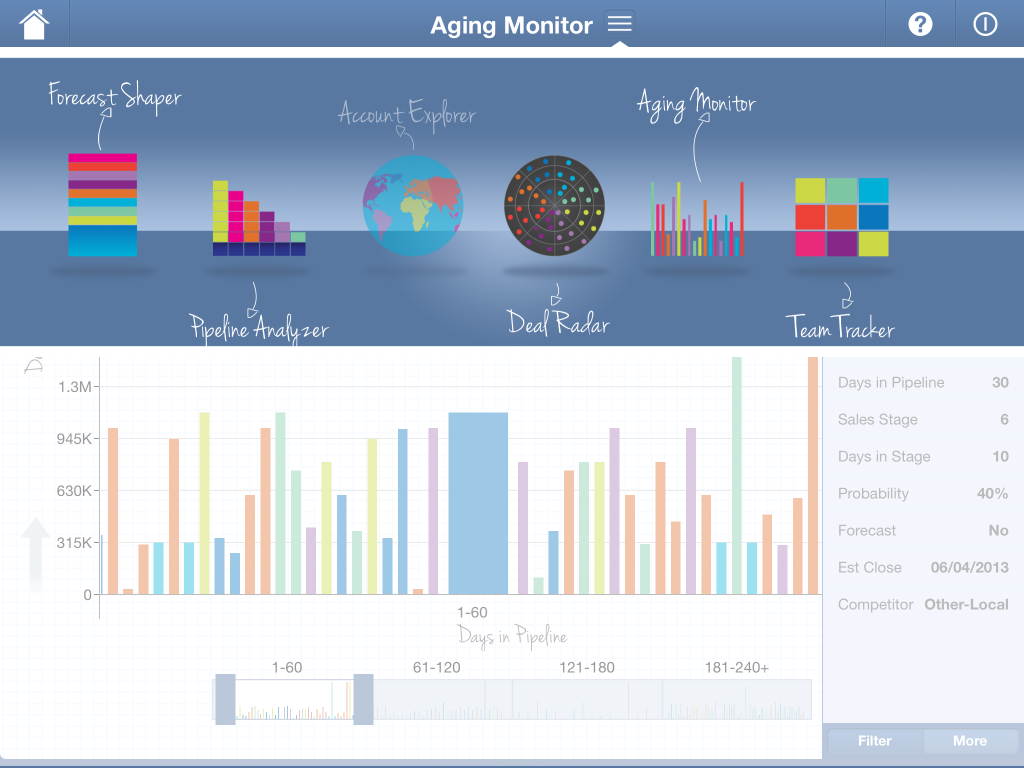 Actionable Real-Time Data
Oracle Mobilytics provides sales executives with unprecedented, mobile business intelligence on sales opportunities, pipelines, forecasts, and sales team performance.
Interactive visualizations designed specifically for the iPad enable sales leaders to gain greater insight into large amounts of data and make better decisions to drive revenue growth, align strategy, and improve sales performance.
The Problem
1. Sales leaders struggle to gain insight into org performance.
2. There is no simple way to action gathered data.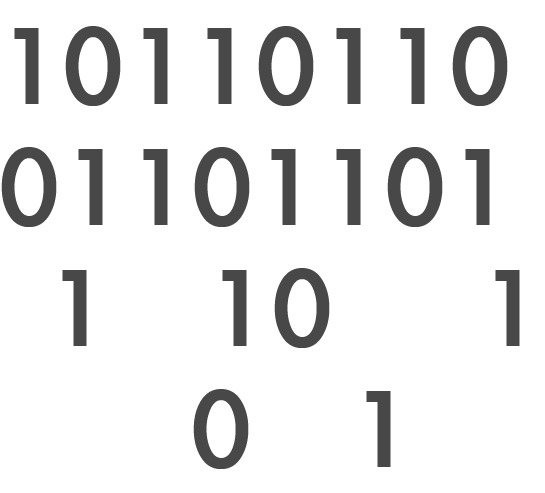 Too Much Data for Human Comprehension
Acquiring aggregated data is painful. Actioning the data is a guessing game.
Having access to the data in the cloud is a pipe dream.
Design Thinking
When designing any product, users come first. Who are the users? What will they need to fulfill their tasks? Why are we making what we are making. These questions and several more are key insights to the users needs, wants and desires.
Know Thy User
Cliché but true. In order to define the users mental models, you must first define the users. For Mobilytics we defined 3 types of users: Sales Executives, Sales Managers and Sales Representatives.

User Centered Design dictates it is not enough to just define the users. We must dig into each type of users mental model.
Sales Executives
Sales Executives need aggregated insights into Forecasting, their Pipeline, Deals, Accounts and their Team. Sales Executives focus on things they can influence and manage.
Sales Manager
Sales Managers have the same needs as a Executive, but they are focused on their team. They need more focused data.
Sales Representative
Sales Representative need enriched content for Accounts, Contacts, Leads, and Opportunities. They want these insights to improve productivity prosecuting deals.
Visual Implementation
I set out to design a product that felt reliable yet fun. An icon set, whimsical text, and a detailed color library was created in order to establish the desired tone.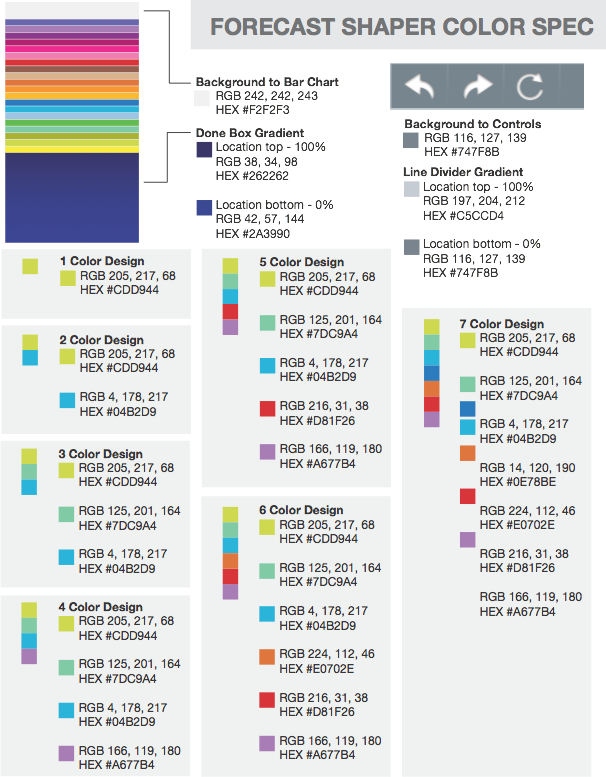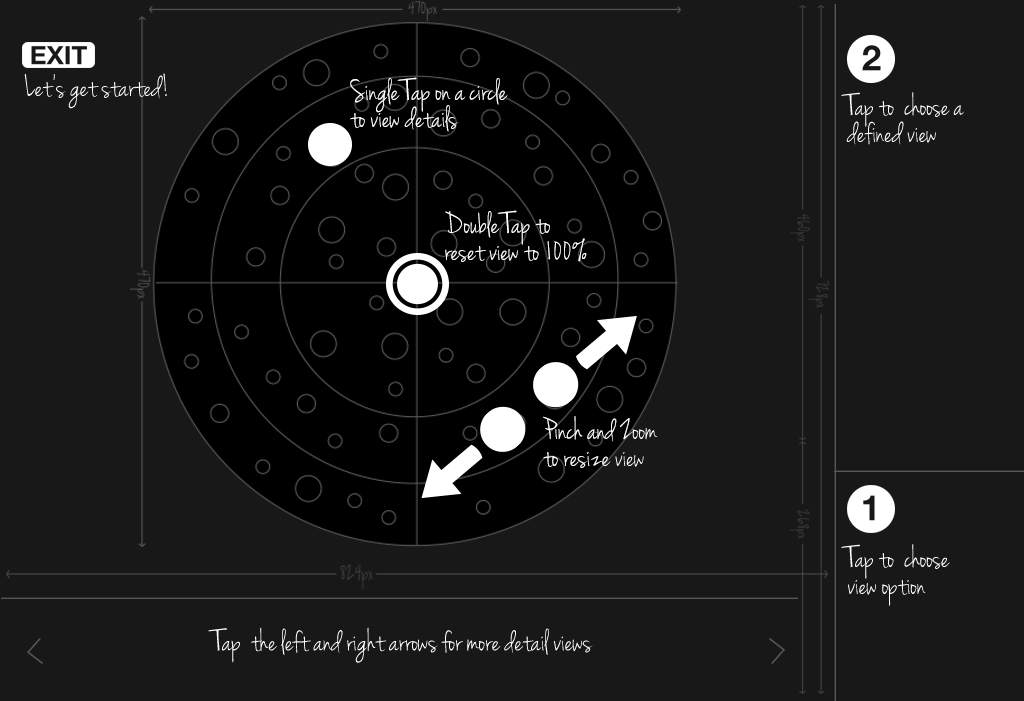 Mobile Analytics for Sales
Mobilytics was built for large and aspiring enterprises. Large enterprises have many needs. They need to manage quarterly forecasts intelligently. They aspire to improve pipeline conversion rates, manage market transitions across accounts and prospect base. Honing in on the key deals requiring attention and managing sales teams is paramount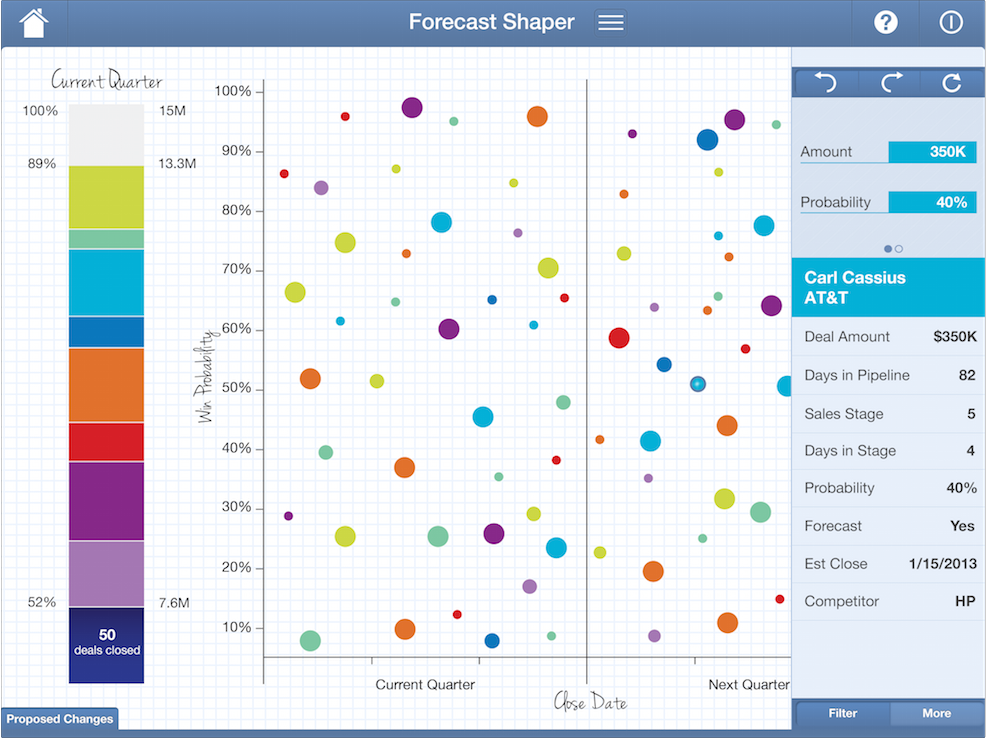 Shape Your Forecast Intelligently
Forecast Shaper enables you to perform 'what-if' analyses and shape your team's forecast more intelligently.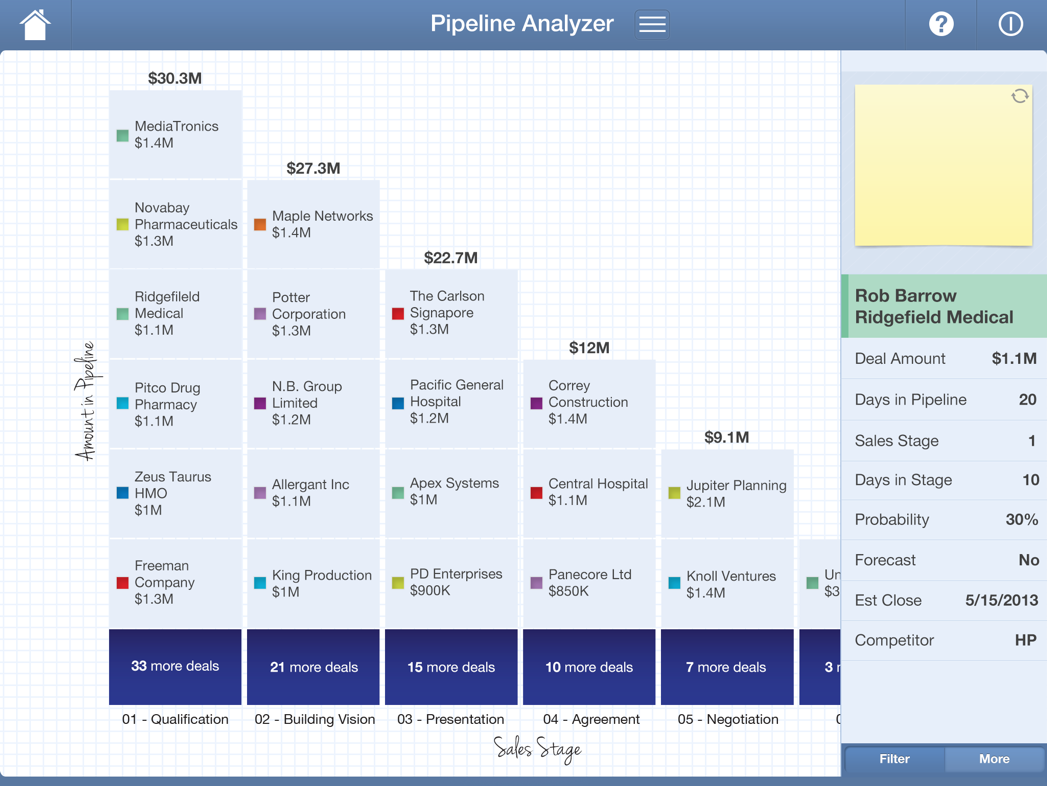 Improve Conversion Rates
Pipeline Analyzer shows all deals and revenue totals for each sales stage. Analyze sales stages and help move large or important deals along.
Target Opportunities
Deals Radar shows deals by activity or quarter and allows filtering. Discover which deals are being actively managed. The closer the deal is to the center of the target, the more the deal is being worked.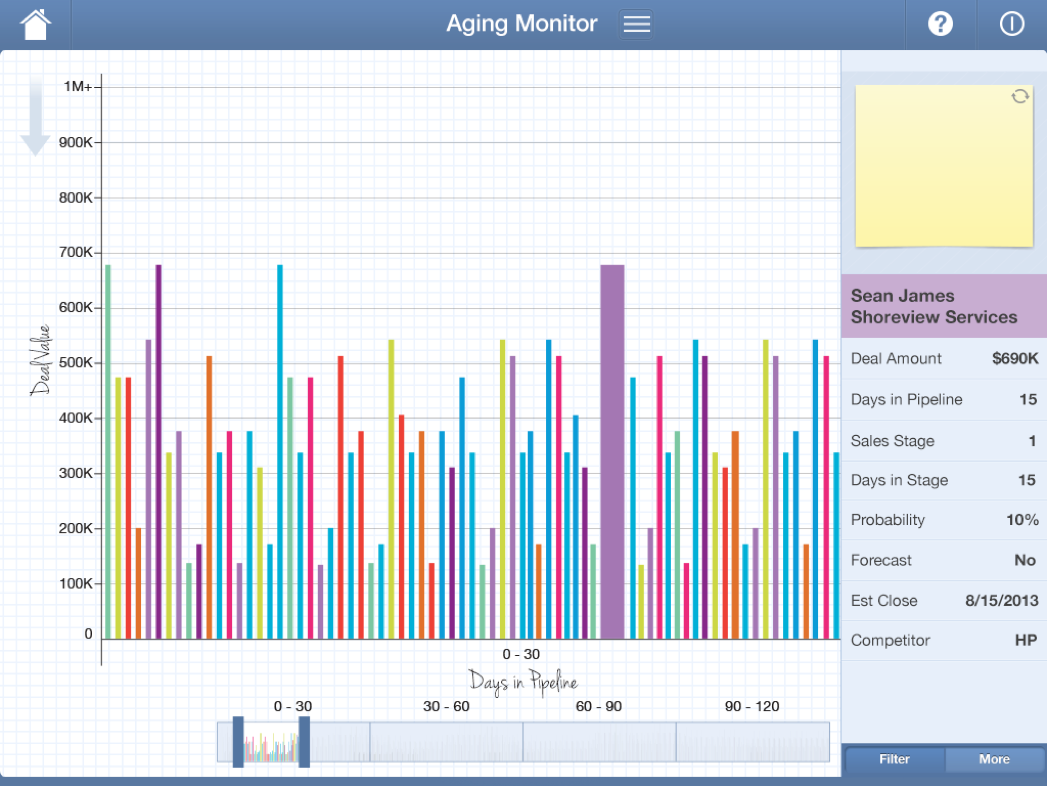 Keep the Forecast on Track
The Aging Monitor shows opportunity revenue by days in the sales pipeline. Use the time bar to hone in on stale opportunities, apply additional filters, or tap to review more details.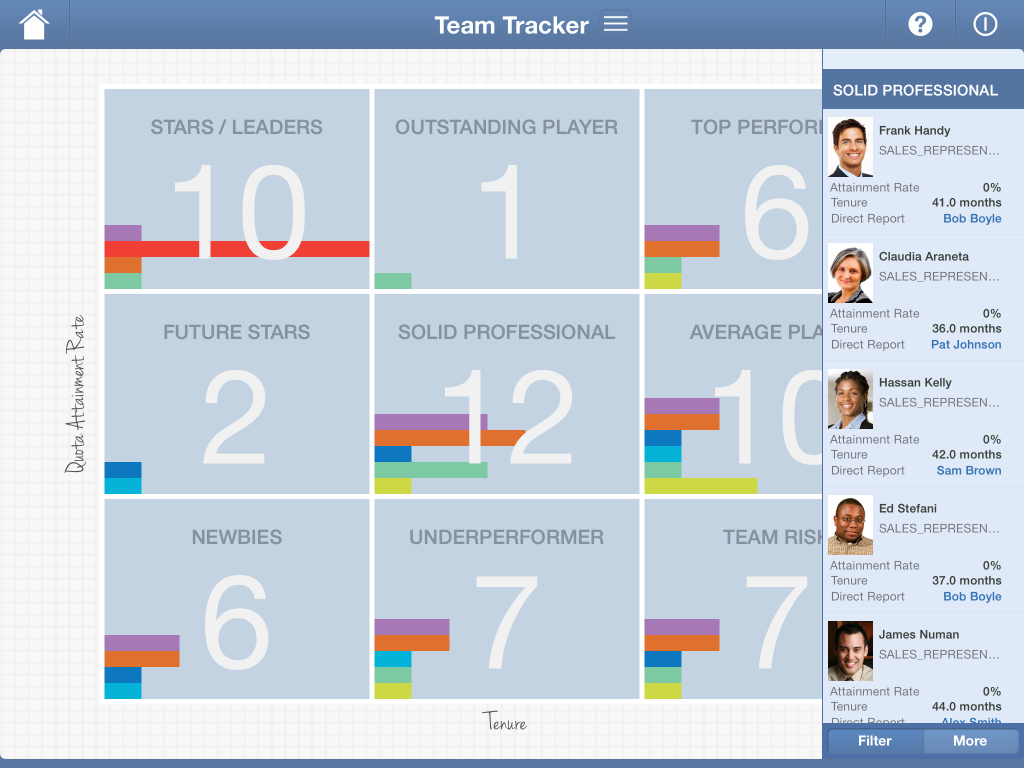 Identify top performers
Team Tracker leverages top performers' best practices, coach under-performers and mitigate team risks.
Final Thoughts
Working on, and at one point owning Mobilytics was a highlight of my career at Oracle. We truly created a differentiating experience that puts actionable data at the users disposal.