Kohl's Digital was a new satellite office located in Milpitas, CA. The team is new and growing, which opened up opportunities for me to learn new skills and grow as a leader.

I lead the design of all the projects below. During most of these projects I incorporated an Agile design process and wore the hat of a planner, manager, mentor, and a researcher. Most of these projects took 2-3 months each. Access to quality researchers, peer reviews and many other cross functional teams helped these designs delight users.
Apple Pay Integration
The Kohl's Credit Card became the first retailer card to be supported by Apple Pay. I was fortunate to be able to create the mocks and flows to make this happen. Below is one of many flows need for implementation and roll out.

Kohl's Becomes First Retailer to Support Apple Pay for Store-Branded Cards – Click Here to Read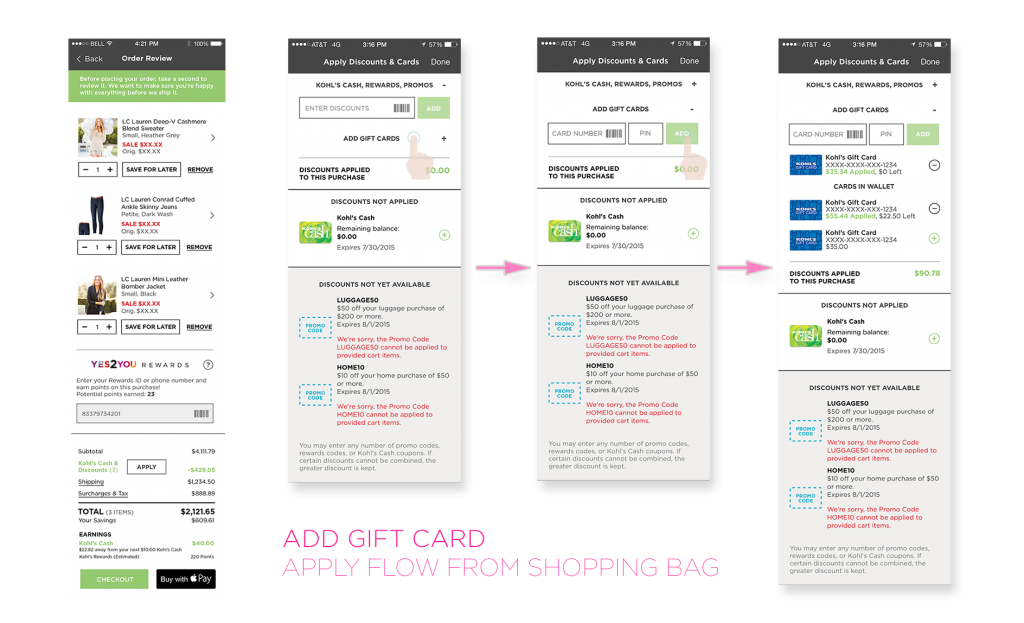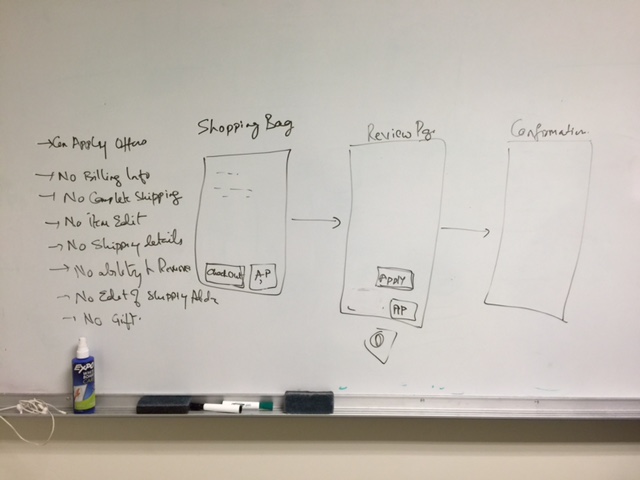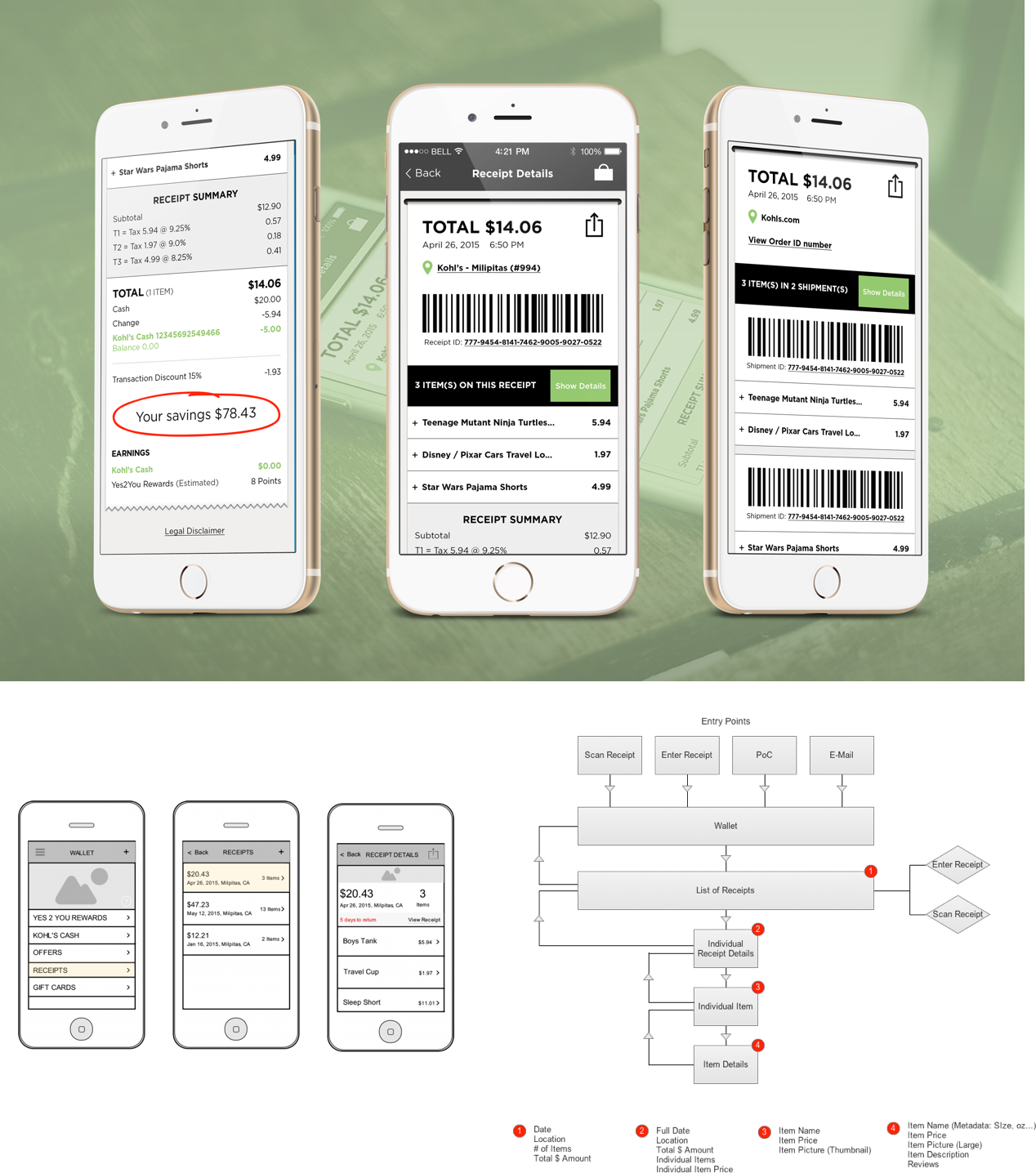 Digital Receipts
I lead the design of Digital Receipts. The experience took a little over 2 months to complete. My vision for Kohl's Digital Receipts in the native app is, "All receipts will be pushed to users omni-channel Wallet." No business on the planet is attempting to do this.
We did extensive user testing to rank the importance of content and find out the users needs and wants. We conducted tests on 303 remote users and 8 in-person tests.
Our findings were very revealing and impacted the product immensely. By categorizing the key features into 2 groups; Helping Associates & Engaging Consumers, we took a mediocre experience to something that delights all users.

Digital receipts help associates by making it easier to return products in store and the receipt now has a more detailed summary which includes the amount of Kohl's Cash applied to each item.

Digital Receipts engage consumers by linking "Store Finder" to the location the receipt was generated, and by surfacing the consumers true return price for each item.

Offers for Native App
The Offers section in the Native App is part of the Kohl's Wallet. I managed and mentored a team of 4 over a period of 2 months while solutioning for Offers, and the re-design of the mobile Wallet.
Offers are Kohl's bread & butter. In fact, without offers and discounts, Kohl's is quite expensive. Little does the user know that when you combine offers, you can get deals cheaper than Amazon!
The problem we defined and solved for is "Knowing what discounts can be combined creates complexity."
The screen on the left represents a new, interactive, fun way to combine offers. You not only have the ability to swipe through the offers at the bottom of the screen, you can drag offers to the top row which represents applied offers. We also give the customer visibility into their bag and a real-time updating bag price.
This experience is game changing for Kohl's. Several ideas for this design were gleaned from a cross functional sketching brainstorm session I facilitated.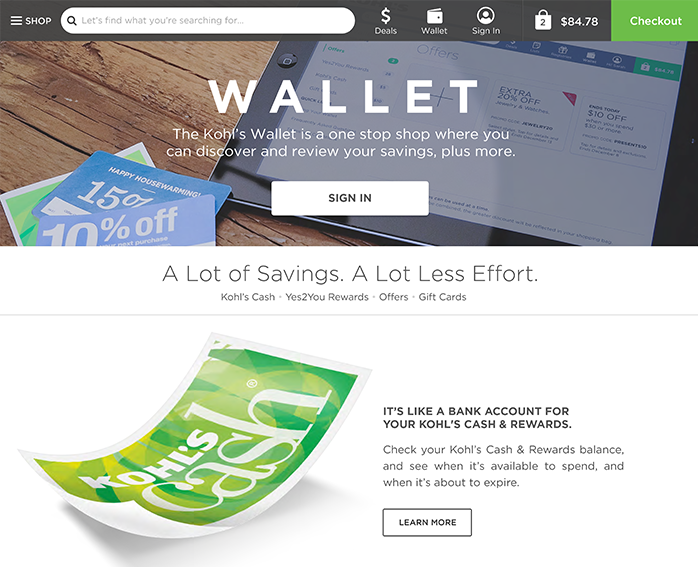 Kohl's T.com Wallet
The Kohl's T.com Wallet is one piece of the Wallet Omni-Channel vision that I am defining. The T.com channel is Tablet HTML.
The Kohl's T.com Wallet did not exist. I lead the vision for the design from inception through rollout.

The Wallet is a place for consumers to store Offers, Cash, Gift Cards, Payment options and more. It was designed to promote user sign up, conversion, and engagement. It enables personalized savings based on what the consumers past system usage.
The Omni-Channel Wallet experience is the highest profile project the CX Department has. I had the honor of presenting the T.com experience to the COO of Kohl's, Sona Chawla.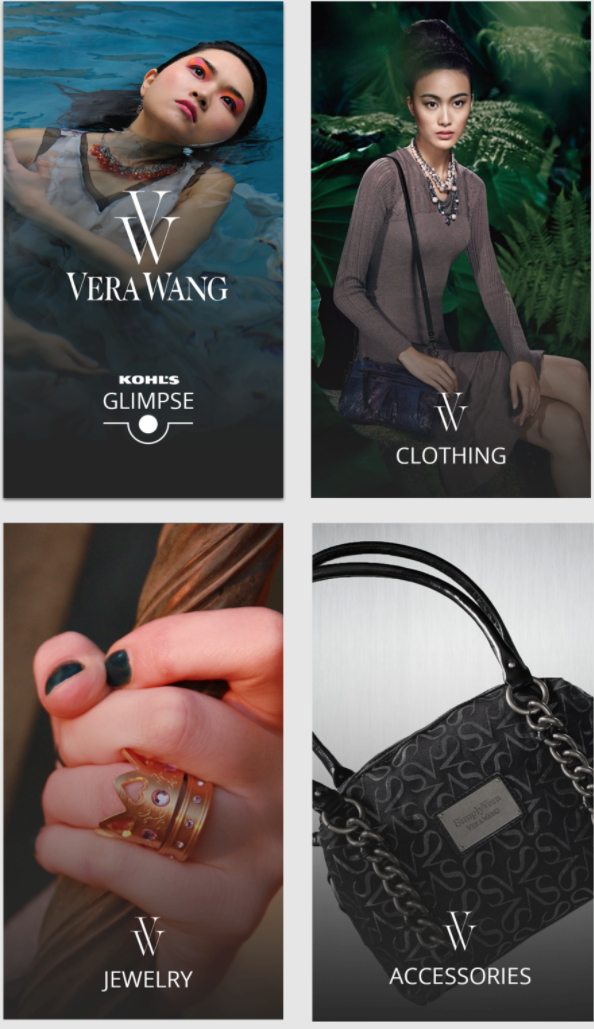 Glimpse
The birth of skunk works project "Glimpse", came from a need to have a stand alone, extremely minimal, shopping experience.
The interactions are based on a mixture of Spotify, Tinder, and secret sauce.

The idea is a simple looping vertical scroll. Once you tap on a screen or slide left, you enter the tinder like/no like swiping interaction. At this time I cannot show the demo.

The thinking behind Glimpse is there are many versions branded for specific Kohl's Designers and their feature lines.

Kohl's loyalty program is embedded deeply in all digital experience and would be extremely difficult to incorporate into several stand alone apps. Customers would not be able to checkout using Glimpse. The products you "Liked" would be transferred as a list to your Omni-Channel bag. This would enable customers to purchase their "Liked" products from any devise. It basically gives the user a fun way to create lists.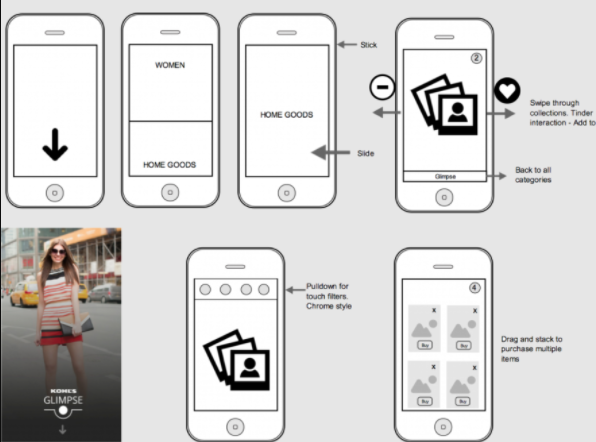 Final Thoughts
Each of these projects could be a Case Study on their own, and each of them I took great price in crafting. Several of these projects will be live in 2016-1017. There are a few other projects that are not posted here along with some industrial engineering that is going through the patent process now.