When I talk about leadership, I am referring to people and design. I have lead several teams over the years and I have found when you know the strengths and needs of the team, work-life balance becomes that much easier. I want my team to love what they do, and love where they work.
My Approach
I rely on a simple approach: arm the team with tools to figure things out, and get out of their way. When empowered, encouraged and accountable, designers make amazing experiences.
The Design Squiggle
The Design Squiggle illustrates the characteristics of a design process, making it clear that we might be uncertain in the beginning, but in the end we focus on a single point of clarity.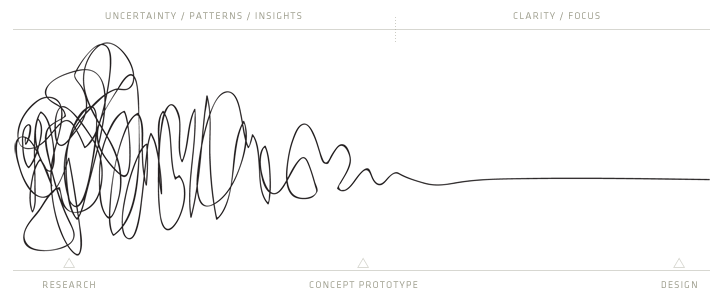 Experience Basics
1. The experience should make an emotional connection the the user and be desirable.
2. The user should be able to intuitively navigate without confusion or questions.
3. The experience should feel natural to the user and facilitate accomplishing their tasks.
4. The experience should provide alternate paths that solve for predictive tasks.
Principles
Early focus on users and tasks

Structured and systematic information gathering

Empirical Measurement and testing of product usage

Focus on ease of learning and ease of use

Testing of prototypes with actual users

Iterative Design

Design modified and tested repeatedly

Allow for the complete overhaul and rethinking of design by early testing of conceptual models and design ideas.
Methods & Frameworks
"Giving our users what they need… not necessarily what they want."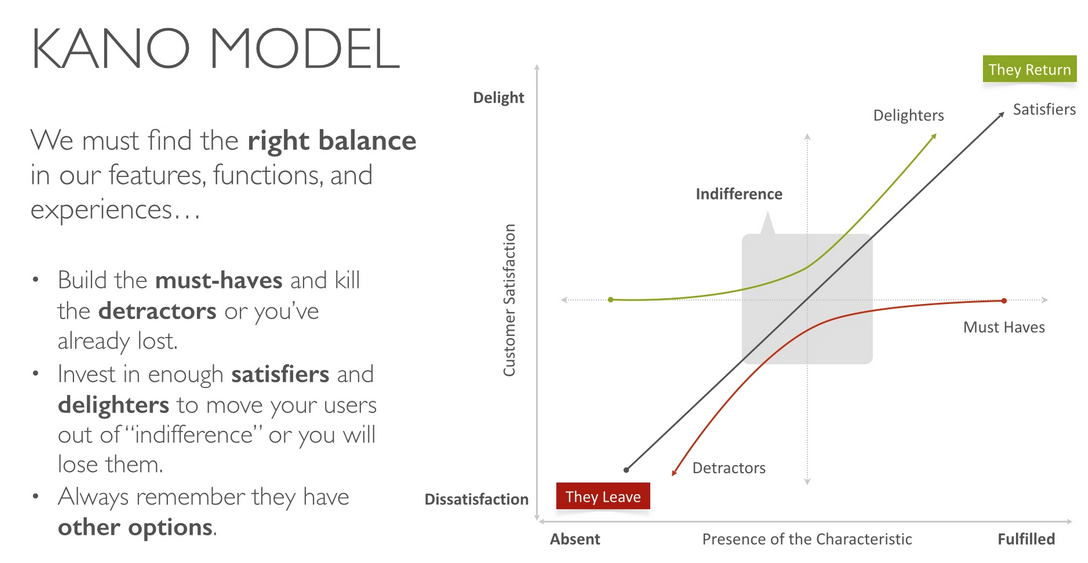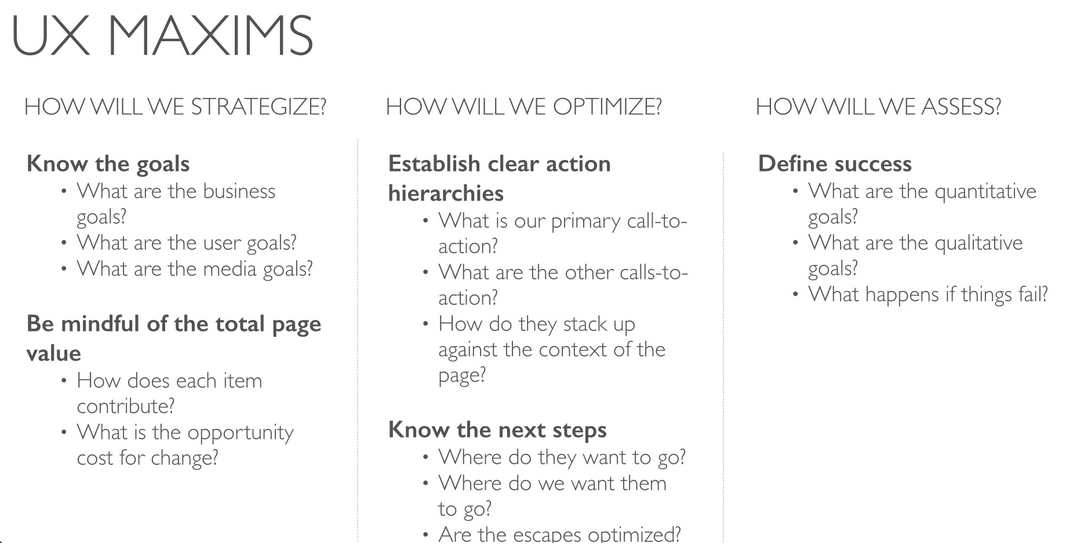 Clarity
Strip out unnecessary graphic elements.

Use white space as a visual divider.

Organize content logically and succinctly, in ways that make it easy to consume.
Consistency
Provide templates for content modules and page layout that can be leveraged across platforms.

Start to align graphic treatment/elements across platforms to provide familiarity.
Color
Avoid using color as a graphic element.

Use color discretely, where it is appropriate and purposeful.

Limit color to imagery & icons that support adjacent content.
Growth and Failure
"When you succeed you grow a bit. When you fail, you grow a bunch."
Holistic growth
Get out of your comfort zone

Collaborate outside of your function

Think beyond our small world… look at everyday things for inspiration

Be industry leaders

Stay because this is where you belong

New ideas feed the passion we need to be successful
Recoverable failure
Simple mistakes: promise time, not revisions

Test: don't assume you know just because you've experienced something.

When you fail: own it!

Manage the unknown: don't make your stakeholder play "bad cop".
Unrecoverable failure
Again, own it.

Don't be afraid of confrontation.

Build the next bridge and then walk away..